Medical Imaging: Best Practices for Digital Color Photography in Medicine
Mission statement:
Collect industry best practices in the field of digital photography and write a guidance document which can be used by the medical industry to minimize the color errors created during the digital color camera image capture process.
Scope:
This guidance document will apply for a range of digital cameras (from cellphone cameras to scientific grade cameras) and lighting conditions. Recommendations will also be made for camera setup and color correction in post processing.
Content:
Introduction and background
Factors that can contribute to color errors
Recommended light conditions
Recommended camera setup
Use of reference color charts
Color correction in post-processing
Recommendations on color management
Note: Content should expand on or introduce new information to what is already available (e.g.
ATA Practice Guidelines for Teledermatology 2007
)
Document distribution:
ICC publication
Journal article
Collaboration with other organizations (e.g. American Telemedicine Association)
Participants
Yves Vander Haeghen, University of Ghent Hospital
Stein Olav Skrovseth, Norwegian Centre for Telemedicine
Elizabeth Krupinski, Arizona State University
Aldo Badano, FDA
Phil Green, ICC
Project coordinator: John Penczek NIST/Univ. of Colorado
Medical Imaging Working Group main page.
---
Meetings
See the Medical Imaging Working Group main page for details of upcoming meetings.
---
Calibration examples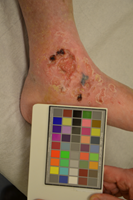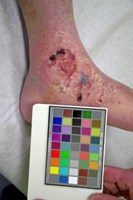 The image on the left is as shot. The image on the right has been calibrated to a D65 display white point as described in the guidelines.
Pigmented lesion. Over-exposed image, masking a lot of specular reflection. Calibration recovers this partly.
All images courtesy of University Hospital Ghent.