2016 ICC DevCon
iccMAX - Real World Solutions and Applications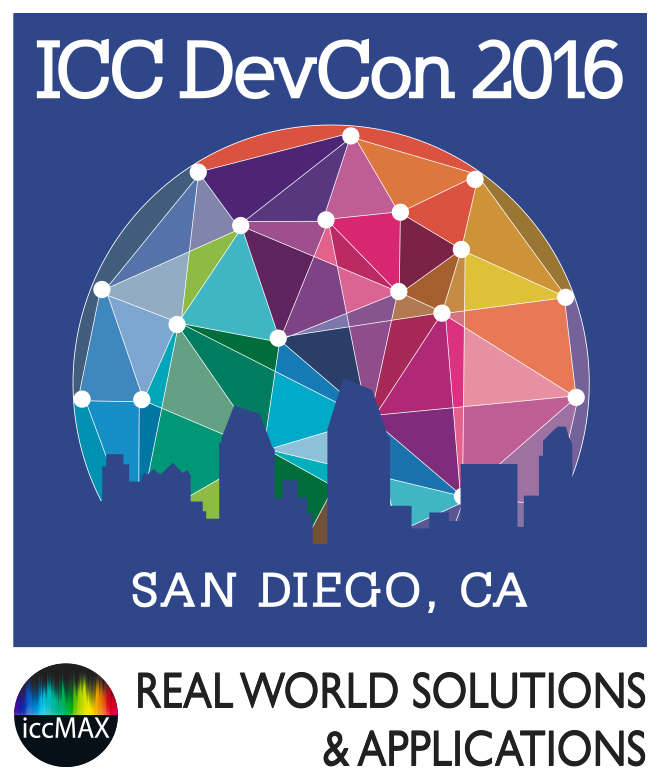 San Diego, November 7 2016
See a preview video.
The full Program is available.
Registration is now open!
This year's International Color Consortium Developers Conference "ICC DevCon 2016" will focus on presenting real world solutions and applications using iccMAX.
Several real world scenarios can now be directly addressed by iccMAX based approaches that could not be easily accomplished with previous color management solutions. Attendees will gain a better understanding of both the background as well as the practical application of their iccMAX based solutions.
Examples of topics to be presented include:
General overview of iccMAX
Correction of Display Viewing Angle with iccMAX
Color tuning of a painting by a multispectral lighting system with iccMAX
Modeling Colour Vision Deficiency with ICC Profiles
A Spectral Workflow for Encoding and Analyzing Artwork with iccMAX
Observer Metamerism Correction on Wide Color Gamut Display using iccMAX
PLUS: HALF-DAY WORKSHOP: Hands-on with RefIccMAX
When:
Monday, November 7, 2016
In conjunction with ICC meetings and IS&T CIC 24
Where:
The Westgate Hotel
1055 Second Avenue
San Diego, CA 92101
Fees
$300 IS&T/ICC members
$200 each additional registration from the same company
$400 non-members
$300 each additional registration from the same company
$50 Student (Early bird special does not apply)
Early bird special - Register by October 5th, 2016 and get $50 off
For any questions about the event, please contact Debbie Orf at NPES +1 703-264-7229
To be added to the mailing list for this event, contact the ICC Technical Secretary.
---